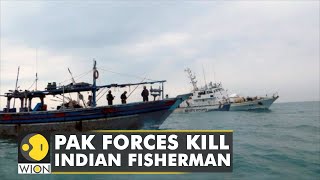 Now India is set to raise the issue of killing of a fisherman off the coast of Gujarat with Pakistan Pakistani maritime security agency. It opened fire on Indian boats, killing one injuring another on the 6th of November now, sources have told beyond that.
New Delhi has taken cognizance of the incident and will be raising the matter with Islamabad through diplomatic channels. They've also mentioned that the firing was completely Unprovoked and a thorough probing of the incident is underway. This is not the first time such an incident has been reported.
In April 2020, the maritime agency had attacked an Indian boat in a similar fashion. India's ministry of external affairs had strongly condemned the incident back then as well, and for more on this. Our principal diplomatic correspondent, siddhant sibil, has sent us this report.
Their development when it comes to killing all the fishermen. This development coming. This is something out of the blues as well, because uh so far, nothing had happened over the past one year, and now this development taking place uh one of the fishermen that have been injured.
He is recuperating in a hospital in Gujarat, but we also know uh that in the past, as well, when such kind of instances has taken Place, new Delhi has raised the matter strongly with Islam.