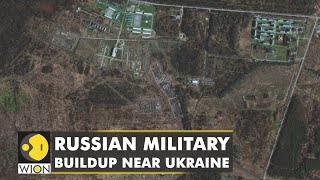 Russia is reportedly amassing large consignments of troops and equipment close to the border of Ukraine. President Putin even took a trip to the annexed region to declare that Crimea will forever be a part of Russia.
Russia's actions have alarmed the west, especially America, which has been trying to westernize Ukraine, so is Putin preparing for a new incursion into Ukraine, or will Ukraine just end up as a pawn at the Center of power politics? Here's a report. Russia is celebrating national unity day and president Vladimir Putin chose to make a political point. He took a trip to Crimea, a region in Ukraine that Russia annexed almost a decade ago.
He laid flowers at the eternal flame near a newly established memorial in the heart of Sevastopol, the capital of annex Russia, Putin said that Crimea will forever be a part of Russia. Russia has found its historical unity, an alive, unbroken link again. You especially feel it here in Sevastopol, in Crimea.
They are with Russia forever, because it is the sovereign free, and determined will of all our people. Russia invaded Crimea in 2014.
Since then, the Kremlin insists Crimea is an integral part of Russian territory. Moscow has been working relentlessly to keep the peninsula in control. It has been implemented.
Policies of forced assimilation, try to transform the demography and guard the Ukrainian border with heavy military deployment. Some 300 kilometers to the northeast of the Ukrainian border lies the town of yelya in western Russia. It reportedly houses a Russian military training ground.
On the 1st of November, an American space tech company released some high-resolution satellite images of this area. They show around 1 000 military vehicles, troop tents, battles, tanks, and self-propelled guns. All of these stations at the Russian town of yelia reports say Russia is moving more military equipment here.
Interestingly, Ukraine calls it a regular practice. The defense minister of Ukraine says that Russia has forever maintained its military presence along the border after the Russian command and personnel. Drills were over Units and divisions of the 41st army remained in the European part of Russia next to the town of yelnia in the Smolensk region.
At a distance of about 260 kilometers from the Ukrainian state border, it should be noted that the Russian federation periodically resorts to the practice of transferring and accumulating military units in order to maintain tensions in the region and political pressure on neighboring states. Ukraine says there are some 90 000 Russian troops stationed at the border. The buildup has alarmed the west, especially Washington Biden, has pledged support to Ukraine and military aid worth 60 million dollars continue to support Ukraine, and the united states remain firmly committed to Ukraine's sovereignty and territorial integrity and the face of Russian aggression and our support for Ukraine's Euro-Atlantic aspirations next week, u.s secretary of state will welcome the Ukrainian foreign minister in the white house to launch a strategic partnership commission. The meetings uh this week and next are an opportunity to reaffirm our commitment to and support for Ukraine's independence, its sovereignty, and its territorial integrity, including in the face of ongoing Russian aggression. Russia is watching America's moves.
President Putin has called him a threat. He has also reprimanded Ukraine sharpening his rhetoric. Even writing an essay that describes Ukraine as a vassal state of the west and suggesting that it's not even a real country, Moscow's words, and actions.
Don't all go well for Ukraine, as it finds itself at the center of a tug of war between the two cold war foes. How Biden handles this will set the tone For u. s Russia ties and his long professed commitment to democracy.