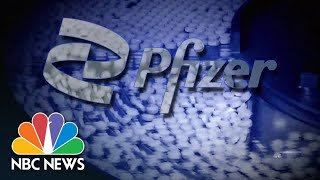 Tonight Pfizer says its new antiviral pill used with the low-dose HIV drug and taken within three days of Covid symptoms reduced the risk of hospitalization or death by 89 percent in high-risk adults. It would save millions and millions of lives.
Pfizer's CEO says: the results which have not been peer-reviewed yet will be submitted to the FDA for emergency use. Authorization likely before thanksgiving Very high efficacy comes even to us as a surprise. Meanwhile, as covid cases soar in Europe, Britain has become the first country to approve another anti-viral pill developed by Merck.
A fda advisory panel will consider that treatment for the u.s. Later this month, stale public health experts stressed that vaccines remain the best protection against the virus.
Seven-Year-Old Theodore just got his. What is this going to mean for you? It means that I can. I can just like have more sleepovers and playdates, and I can feel better going to big giant parties, but not everyone's celebrating after the Biden administration announced companies with a hundred or more employees would have to ensure they're vaccinated by January 4th or tested weekly.
At least 27 states now say they've filed or planned to join lawsuits challenging the rule. The federal government can't just Unilaterally impose medical policy under the guise of workplace regulation. As for that covet pill, Pfizer says it has about 50 million treatments at the ready.